Dining Room Table Top Refinishing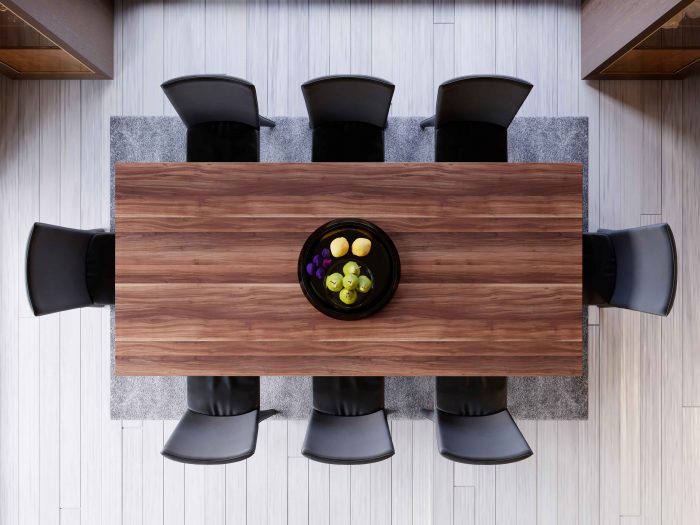 Perhaps one of the pieces of furniture that regularly sees the most use in the home is the dining table. A place where members of the family, friends, and guests come together to share a meal, many memories are made with this standard addition to the home. But because it is used so often throughout the years, this reliability can show in the gradual wear and tear that comes from regular use. If your dining room table is made from wood, this can show in scratches, gouges in the surface, and even water or heat marks. While it's easy to prevent these types of issues with your dining table surface by means of protective additions such as place mats, coasters, and the like, it's important to note that as temperature and humidity levels fluctuate in your home, you may still see slight signs of fading, for example, depending on the quality of the existing finish and the wood's natural properties itself.
If you're wanting to restore your once-striking jarrah table to a state of beauty once more, but aren't sure where to start, doing a little bit of research can go a long way. Restoring a wood dining table takes the right tools, the right knowledge, and a little bit of elbow grease.
If you want to DIY your jarrah table, you'll need to invest in different grits of sandpaper, stain brushes, rags, tack cloths, your stain of choice, polyurethane, and you may have to rent out an orbital or belt sander and a router, too.
Your first step is to sand down the entirety of the table: this includes the legs and edges. This is to remove the existing stain and varnish, and provide you with a smooth surface to apply your new stain while also removing scratches or gouges in the wood. Use tack cloths to remove the sanding dust and then apply the stain along the grain of the wood, and wipe the excess off. Depending on how dark you want the stain to be for your jarrah table at the end of the process, you can wait for longer to do this to ensure that the stain really sets in the wood. Repeat the process at least twice, sanding in between coats to ensure that there is a smooth surface for the stain to set. Apply at least four coats of polyurethane after the final stain has dried to ensure that your dining table is sealed properly for regular use.
How much does it cost to refinish a dining room table?
If you are wanting to DIY, the costs of refinishing a dining room table can pile up, considering you are buying materials and renting sanders for the project. The trial and error that can occur if you're not used to working with timber can also cost you in the long run. Instead, contact your local furniture maker and consult with them to ensure that your dining table is refinished professionally, with the least risk of damage so that you can get more life out of your table for the years to come.
Share This