What is the best jarrah dining table finish?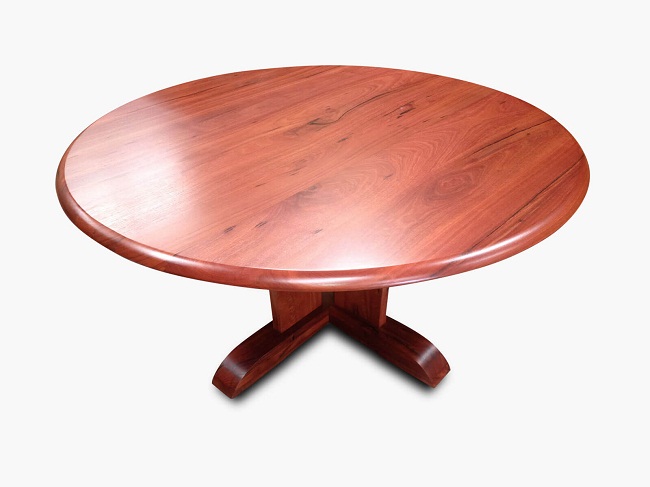 Adding a jarrah dining table to your home creates a warmth and elegance which is unequalled.  It embodies the classic style or lends itself to a contemporary or industrial feel with ease. Whatever your style Jarrah timber is a standout choice for a dining table due to its outstanding qualities of hardness, durability, and strength.  
With the style of table and timber choice made, the only thing left to consider is the finish.
Your dining table is not only the hardest working piece of furniture in your home, but it is also noticeable if damage is to occur.  The finish is what protects your dining table, and it therefore needs to be able to withstand the daily knocks more than any other furniture piece in your home.
We are often asked what finish is best for a jarrah dining table and what are the benefits.  With careful consideration paired with years of experience we have identified three top contenders for the best dining table finish, which are available in a range of gloss levels to suit your taste and style.
SINGLE PAC LACQUER FINISH
Single pac lacquer is the most recommended finish for dining tables and is suitable for normal household use.   Single pac lacquer performs exceptionally well in terms of durability and hardness. The single pac finish includes two coats of sealer to fill the grain and seal the timber followed by two coats of lacquer which provides a water-resistant finish and the desired gloss level.  Spraying is performed in a dust free booth to ensure a perfect finish every time.
TWO PAC LACQUER FINISH
Two pac lacquer is the recommended choice where a high level of wear and use is expected.  This makes it perfect for homes with young children or where the dining table is used for multiple purposes. The two pac finish includes two coats of sealer followed by two coats of two pac lacquer.  As the name suggests, a two pac finish consists of two parts, which when combined react to cause the mix to harden into an extremely hard and durable surface with excellent water-resistant properties.
POLYURATHANE LACQUER FINISH
Polyurethane has all the benefits of two pac lacquer in terms of hardness and durability and offers the best water resistance available.  It is recommended for commercial use, bathroom vanities and kitchen bench tops where water is likely to come into regular contact with the finish.  The polyurethane finish includes two coats of sealer followed by two coats of polyurethane and as for all our finishes is applied in a dust free booth to get that flawless finish.
WHICH GLOSS LEVEL SHOULD YOU CHOOSE?
Gloss levels are a personal choice, and do not affect the performance of the finish in terms of durability, hardness or water resistance.  It is however worth noting that the higher the gloss finish, the more visible finger-marks and scratches will be. Gloss levels fall into four categories including matt (0% gloss), gloss-satin (25% gloss), semi-gloss (50% gloss) and high-gloss (100% gloss).
Our most popular choice of gloss finish for jarrah dining tables is gloss-satin which offers a beautiful natural gloss and is more forgiving than higher gloss finishes in terms of showing up slight scratches and finger-marks.  
Matt finishes are currently on trend and becoming increasingly popular.  A Matt finish offers a great natural look, while highlighting the grain of the timber, a matt finish has the added benefit of hiding any damage that may occur and being easier to touch up if damage is obvious.  
Semi-gloss and high-gloss finishes look stunning and are great in homes where your table does not have heavy use and you are prepared to protect the surface from the risk of scratches.
For more advice come into our Osborne Park workshop and showroom to have a chat and check out the best jarrah dining table Perth has to offer.  All our furniture is manufactured onsite at our workshop, and all our dining tables can be customised to suit your needs, so you are sure to find your perfect dining table.
Share This