How to Choose the Right Marri Dining Table for Your Home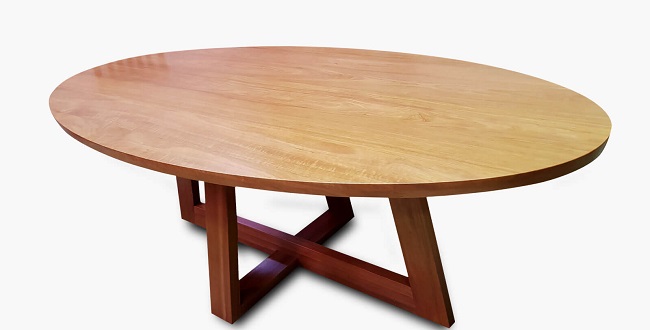 One of the best things about choosing Marri timber furniture is that you can leave behind many of the conventions that others have to endure. Whether the furniture is ideal for your needs or created as a bespoke piece, you get the furniture of a significantly higher quality for your home. When it comes to a Marri dining table, the size and style that you choose are up to you if you have the budget and the only real limits are your imagination. Let's take a closer look at timber dining tables and how you can choose the right one to suit your home.
A Marri Dining Table is More Than a Place to Eat
Let's face it; the dining table is where a great deal of your family life happens over food and during other activities. Whether you're sharing a meal with family and friends, playing a fun board game or helping your kids with their homework, a great dining table can play a major role in your family life. Many dining tables that you find in a typical furniture store are made from poor quality materials, and they simply don't stand up to much use. Buying a cheaper dining table is a false economy, they cost too much for what they are made from, and they will need to be replaced more often. For this reason, many people are now making the choice to design their own custom furniture or to purchase high-quality pieces made from Marri and other hardwoods.
Something to Pass On
When you purchase a Marri dining table or pieces of hardware furniture, in general, you're investing in the future. These pieces of furniture may outlast you, and they can be passed down to your descendants for them to enjoy. This is the lasting legacy of craftsmanship, and high-quality natural materials and they stand the test of time. In the same 30 year period, you could easily go through half a dozen mass-produced dining tables, and yet the hardwood table that you purchased will still be going strong. This allows your dining table to become almost a family member and who knows maybe one day you will see your grandkids eating at the same table.
Choosing a Dining Table Shape
When you decide to leave behind mass-produced cheap furniture, the world is your oyster, but this also brings new problems that are fun to solve. Now that you can choose a custom dining table or a higher quality piece of furniture manufactured in lower volumes, you need to think about what you really need. The first consideration is likely to be the shape of your prospective dining table.
To a large extent, this will be determined by the shape of your dining space, as an example: a rectangular room will suit a similarly shaped table. Having a dining table the same shape as the room will give the space a certain visual symmetry that is very calming. Rectangular dining tables in various sizes are the most popular type of table on the market. However, you're not restricted to choosing a rectangular shape, and you can make a real visual impact by using a square or even round dining table instead.
Many people prefer a dining table that doesn't have a traditional head of the table paradigm. It is possible to have a functional dining table that creates a feeling of sharing rather than establishing some sort of formal dining hierarchy. A more informal dining table can put people at ease, making it a great choice for people that entertain often. If you're not sure, you can straddle the fence and go for an oval table that can give you a dining table that's a little formal with softer lines.
A square dining table can be a solid choice, but it's best used in larger open spaces. A square table takes up a great deal of space, and it's harder to move around than other shapes. If you choose a smaller square dining table bear in mind that you cannot push all the chairs under at the same time if you don't leave enough space. So, you may need to leave a little room between the tables and chairs because they may not be flush.
What size of Marri Dining Table should you choose?
Again, the size of the dining table will be based on the dining space, and you need to leave adequate room for diners to pull their chairs out and sit down comfortably. There is no exact formula for this, but as a general rule of thumb allow 90cm from a wall to the back of a dining chair to provide adequate clearance for most people. The height of the dining table is also crucial, most dining tables are around 76cm high, but if you want to match your table to antique chairs or other items of furniture you may need to adjust this. The dining chairs should be approximately 20-30 cm from the seat pad to the underside of the dining table to prevent diners thighs from rubbing uncomfortably. If you've already selected the dining chairs that you want, it's important to measure them carefully to ensure that they will match your new dining table. Make sure your furniture designer has these measurements before work on your dining table begins.
Choosing the right timber for your Dining Table
A dining table is a considerable piece of furniture with large smooth surfaces. The table needs to be practical, but it can also be beautiful, and there are many hardwoods available to create a stunning aesthetic appeal. Some popular options are marri, blackbutt, gum, walnut, oak, and mahogany because they offer durability and the stunning look that many homeowners want. The size and shape of the grain on each of these timber surfaces can vary a great deal, and you have the opportunity to customise that look with your choice of stains and finishes. This is a fantastic way to add even more character to your dining table that's sure to be a talking point for years to come.
If you're interested in a Marri Dining Table for your home, contact Jarrimber for more details today.
Share This